Religious Decorations in Dayton, OH
Contact Us
It's easy to contact Dayton Church Supply, Inc.! When you're ready to shop religious decorations and items, simply fill out our online contact form and someone will get back to you as soon as possible or give us a call today, we look forward to assisting you!
Book An Appointment

About Dayton Church Supply, Inc.
Fourth-Generation Business | Church Delivery Available | One-on-One Service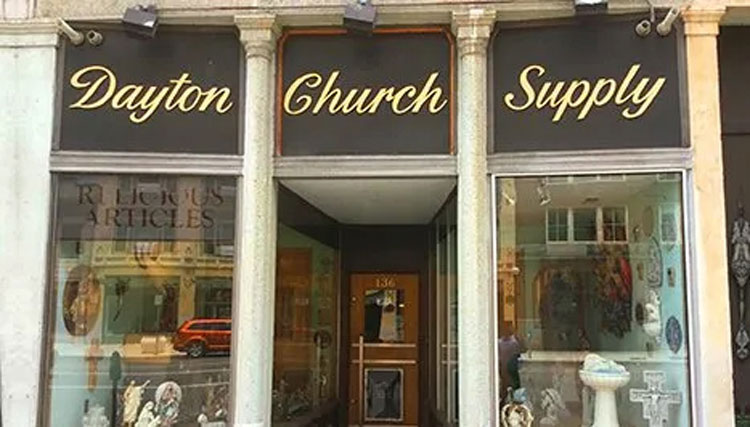 Part of Dayton's History for Generations
In November of 1912, after being a road salesman for Benzinger Brothers in Cincinnati, Joseph Tegenkamp came to Dayton, OH and bought The Catholic Library Store. This store rented Catholic literature for a few cents a day. On Easter Sunday in March of 1913, the Dayton flood brought four trillion gallons of water through downtown.
The business was washed out. Joseph Tegenkamp enlisted a partner from his days in Cincinnati and reopened as the Witte-Tegenkamp Company: a church supply store that sold supplies and religious articles.
When the Great Depression hit, Mr. Witte asked Joe to buy him out and the company went into receivership and was renamed as The Dayton Church Supply. Joe had five sons, but only Frank came into the business. At this time, the business included framing, church goods and selling religious articles to the pilgrims at the shrines of Our Lady of Consolation and the Sorrowful Mother.
The business relocated to its current location in 1948 and was eventually taken over by Frank Tegenkamp, who saw it through Vatican II. Upon his death in 1966, the Dayton Church Supply was incorporated and taken over by Frank's widow Cornelia and their son Paul. Paul Tegenkamp eventually bought out his mother and has been president of the corporation since his father's death.
Paul's daughter Karen Klepacz is the fourth-generation owner and has been vice president of the corporation since the 1990s.
Dayton Church Supply, Inc. only offers you quality products at reasonable prices. Contact us today. All inquiries are returned by our next business day.