Worship Accessories in Dayton, OH
Shop Religious Books & Other Religious Goods
At Dayton Church Supply, Inc., we take great pride in offering an extensive range of religious gifts and supplies for churches, individuals, and families. With over 101 years of experience in serving the faith community, we're dedicated to providing high-quality church furniture and other products that enhance your spiritual journey and bring you closer to your faith.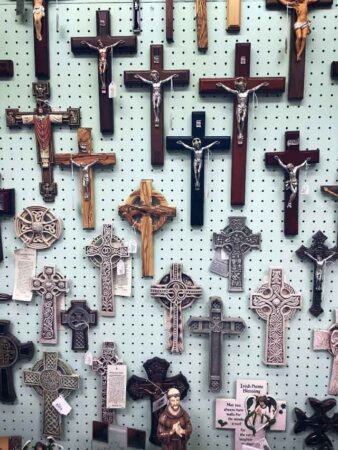 Religious Books & Gifts for Everyday Life
Life is a sacred journey, and our collection of religious goods and church supplies is designed to accompany you every step of the way. From beautiful devotional books to inspirational home décor, we have something for everyone. So whether you're seeking a meaningful gift for a loved one or looking to enrich your own spiritual practice, our wide selection of religious gifts will surely inspire and uplift you.
Baptism and First Communion Items
The sacraments of baptism and first communion are momentous occasions in any person's spiritual journey. At Dayton Church Supply, Inc., we understand the significance of these holy events and offer a range of meaningful items to commemorate and celebrate them. From delicately crafted baptismal candles to elegant first communion rosaries, our extensive selection ensures that you will find the perfect item to mark these sacred milestones.
Gifts and Supplies for Every Denomination
We believe that faith is diverse and should be celebrated in all its forms. That's why we proudly offer gifts and supplies for every denomination. Whether you're Catholic, Protestant, Orthodox, or part of any other faith tradition, our collection of religious items is tailored to meet your unique needs. From clergy attire to religious jewelry, we have everything you need to express and share your faith.
Seasonal and Christmas Items
As the seasons change, so too does our collection. At Dayton Church Supply, Inc., we carry a wide range of seasonal religious items, allowing you to celebrate and honor various religious holidays throughout the year. From Easter candle sets to Advent wreaths, our beautifully crafted pieces will add a touch of spirituality to your seasonal celebrations. And when the most wonderful time of the year rolls around, our Christmas collection is sure to inspire the true meaning of the season.
Quality and Service That You Can Trust
At Dayton Church Supply, Inc., we understand the importance of quality and reliability when it comes to religious goods and liturgical apparel. That's why all our products are carefully selected to ensure they meet the highest standards of craftsmanship and spiritual significance. We're committed to providing exceptional customer service and strive to exceed your expectations in every way. Your satisfaction is our top priority!
Shop Religious Goods With Confidence
Discover the joy of shopping for religious goods at Dayton Church Supply, Inc.! Browse our extensive collection today and let us be your trusted source for all your spiritual needs. And if you have any questions, our dedicated customer support team is always ready to assist you with any questions or concerns you may have. Together, let us deepen our faith and embrace the beauty of religious traditions.